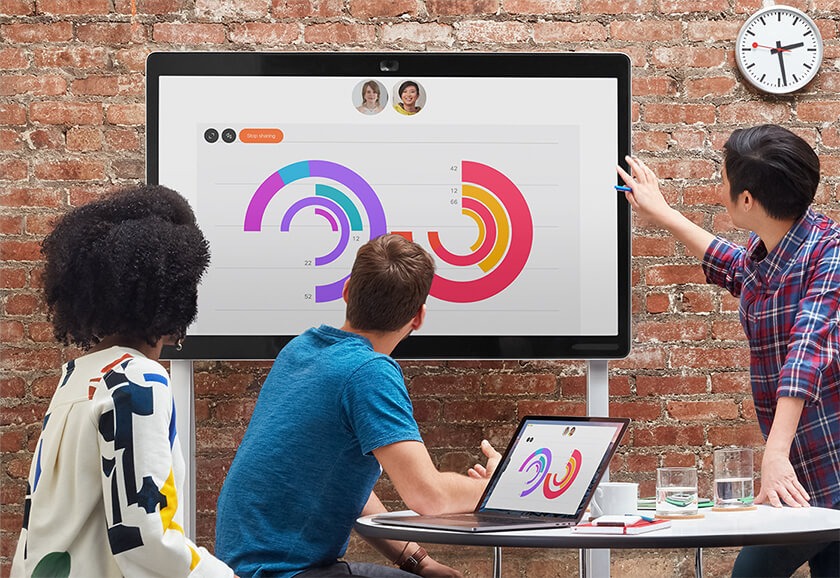 "The world's biggest problems are the world's biggest market opportunities (…)"

Peter Diamandis
As any company Cisco cares about the health and wellbeing of their employees and is taking the sensible steps to help contain the spread of the virus Covid-19 (encourage to remote work, etc.).
Indeed, remote work is already part of the Cisco culture says Antoine Engelen, Programmability Lead at Cisco. Due to the current context he wanted to share a typical situation on how he can continue to communicate with his clients from his home.
"I caught a cold last week and followed the Cisco Health guidelines. So, I decided to work from home even if I had a busy week with several client's meetings. I wanted to maintain my meetings and I invited my clients to attend at Cisco HQ in Diegem even if I was at home. I facilitated the meeting by using a Webex Board, for my digital presence as well as to co-create via canvas, post-it's, etc. ".
Based on the Cisco solutions, Antoine could monitor and facilitate the whole process from his unique device and made a big impact by demonstrating the positive effect of using Cisco Solutions.
What about the other companies who will probably struggle to make the move with this increased need of collaboration with employees and clients due to covid-19?
Since the beginning of the crisis in China, they have seen an exponential increase in the use of their products (Asia & Europe). Cisco has immediately turned the problem into an opportunity by supporting their customers during this unprecedented time.
They offer free unlimited usage of Webex Meetings for up to 100 participants for anyone and free 90-day enterprise trials for organizations. Thanks to these free business licenses companies will continue and start to innovate with their stakeholders.
Antoine Engelen, how to implement and use Cisco technology to co-create solutions?
Our technology must be at the service of our end users and not in their way! Therefore, our philosophy is to integrate our solutions with the existing tools of our users such as Trello, Outlook, etc.
Through our Webex whiteboards, we offer a digital experience to our clients when they want to co-create and innovate by digitalizing the whole toolkit of innovation: post-its, sharpies, canvas, etc.
During innovation programs such as Hackathons, workshops, ideation days, etc. participants can write on digital post-it's from their laptops or mobile devices and share them automatically on the main digital board to be visible by everyone.
An inspiring video shows how you can transform the way you can continue to collaborate and innovate remotely : https://www.youtube.com/watch?v=zIYzXOE4Ojk