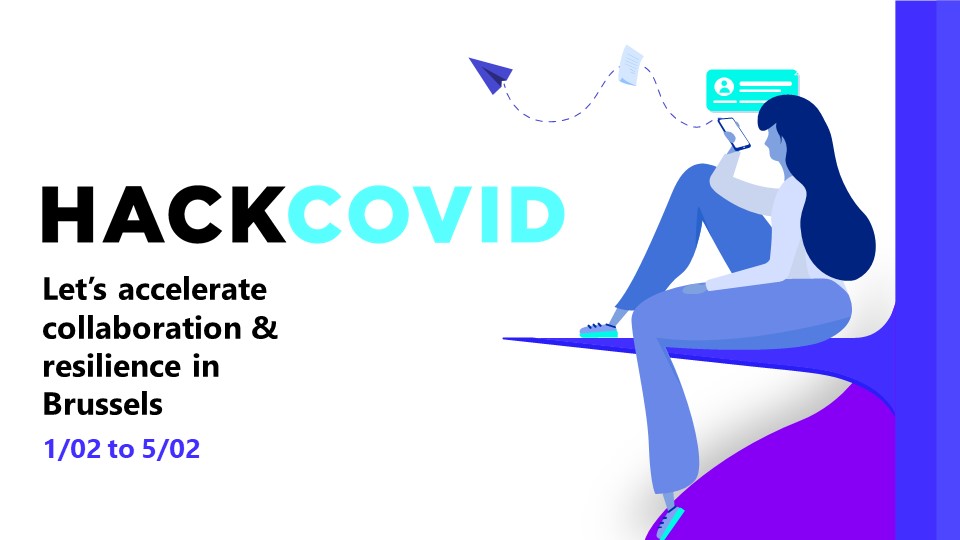 On April 13th of 2020, we have organized in the name of the consortium MATTERS what we called Hackcovid: a hackathon for citizens to think the POST-COVID world.
During 5 days, in the middle of the lockdown, 70 brave dreamy people joined forces to create solutions answering pressing issues relative to FOOD, MEDIA, MOBILITY, EDUCATION, HEALTH & ECONOMY fields.
In April, we thought we were facing the worst of the crisis. We couldn't forecast the even strongest waves hitting us right now. Hackcovid as its name indicates was meant to be a one-shot event. It was meant to disappear, with the crisis.
The fact is: the crisis is still there. New challenges appeared. Challenges that need to be solved through innovation, collective intelligence & impact reflection.
So SAVE THE DATE: Hackcovid is coming back.
The 1st of February 2021, together with ACTIRIS, HUB BRUSSELS, FINANCE. BRUSSELS, CITY DEV, INNOVIRIS et VISIT.BRUSSELS we will invite job seekers, governmental collaborators, corporate employees & entrepreneurs to collaborate.
Our partners will propose challenges. They are the actors in the fields, receiving job seekers & establishing the increase, supporting entrepreneurs & innovation in the region of Brussels capital.
Some of the challenges might talk directly to your hearts. So, stay tuned. Challenges will be revealed soon & subscriptions will be opening very soon.
Leveraging collective intelligence is the only way to make our city a better place & a pioneer in resilient cities.
Our work as intermediary and experts in facilitation, innovation methodology & impact will end only when we will have transmitted the keys for agility and resilience to a maximum of people so that kind of events gets organized organically.
If that kind of event talks to you, please share it with your family, friends or colleagues, send us a message or write a comment! Let's spread a message of hope.
We keep in touch: oceane@impact-valley.com! 😉