[mk_header hover_styles="5″ search_icon="false" woo_cart="false"]
Leadership Team:
Impact Valley is managed by a group of changemakers passionate about innovation. When they are not in the field, facilitating innovation programmes, volunteering with other organisations, developing their own entrepreneurial projects and having a private life, they are taking part in our efficient, agile and transparent leadership team.
Delivery Unit
For every programme, consultancy mission or in-house initiative we deliver, we have the support of a broad team of fixed employees, on-demand staff and motivated interns.
Inspiring mentors
They feed our strategic thinking, challenge our ways of working and contribute to our business growth. Meet our coach and advisor and mentor who continue to push Impact Valley to its next level.
AUTHENTICITY.  RESPONSABILITY.  CREATIVITY.
Our vision
We make the world more collaborative & sustainable
To facilitate the transition towards a sustainable future, it is our firm belief that we need to make ecosystems much more collaborative.
The United Nations have defined 17 Sustainable Development Goals that we need to reach all together by 2030, and we want to be a key contributor of this achievement.
To sucessfully manage this transformational journey, we aim to engage several players of a local ecosystem and make it more collaborative, using our innovation methodologies.
Stakeholders of an ecosystem need to further cooperate and leverage other's capabilities to create shared value. They will only be able to act on the SDG's when they will understand that: "If you want to go fast, go alone. If you want to go far, go together."
This mantra inspires us in everything we do, and we hope for you too!
"If you want to go fast, go alone. If you want to go far, go together."
Our mission
We connect people for collective impact.
We facilitate train & coach people on co-creation processes by using collective intelligence, knowledge sharing, and positive thinking.
We help companies across all sectors, that are willing to take action in line with the Sustainable Development Goals, while we focus on number 17. Find more about the SDGs here.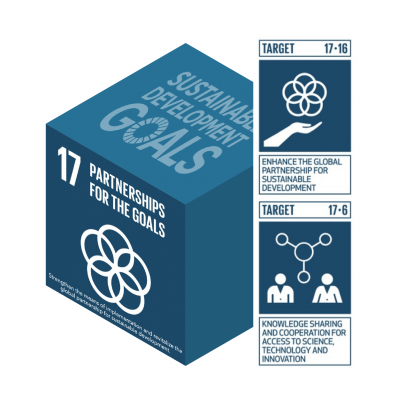 Impact first

In every program that we deliver, whether for a client or our own initiative, we are driven by the positive impact that we will generate on society.

Ecosystem as a service

We avoid reinventing the wheel by connecting with people! We leverage existing solutions, as far as possible, and partner with many different stakeholders to find shared value.

Personalization

We listen to our clients' needs, committed to reaching a full understanding of their priorities, and shape unique and personalized solutions just for them.

Positive energy

We love our job! It brings us happiness and purpose, while enriching the culture of businesses with which we work. We spread this positive energy to others in every action that we take.

Transparency

And we take care of our people and the people that we reach through our work. We always promote a fully transparent and respectful way of working.

Open-mindedness

We welcome every input and idea from our team, our client or participants, without any prejudice. We act in a way that encourages creative spirit.

Culture of feedback

Feedback is a gift because it enables growth. That's why we actively seek feedback continuously.
Our partners
Companies, organisations and individuals can no longer work in silo.
We have to adopt a systemic approach and engage different players in the supply chain to create collective value, both for business and society. Rather than reinventing the wheel, we build bridges with our coopetitors (Cooperators + Competitors)  and address the needs of clients that we have in common, by exploring joint offers.