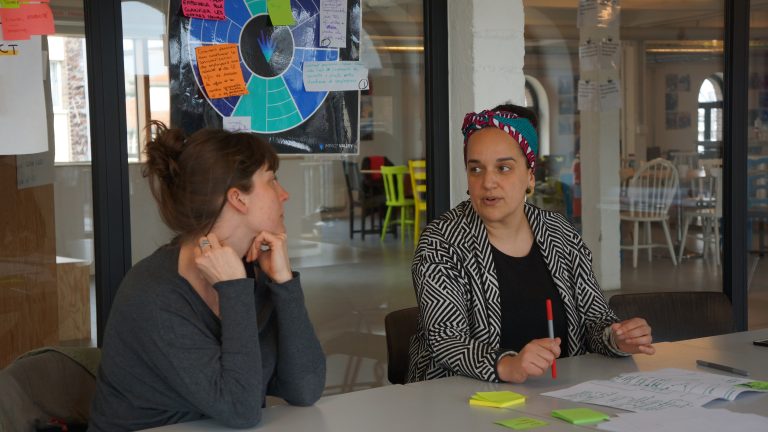 The actors involved (job seekers, field associations and employers) have co-constructed, based on the 4D methodology, two solutions that activate specific levers in the current recruitment pathway and bring changes to the existing process:
By inventing and implementing a training process for social workers to enable them to connect more easily to the business world.
By experimenting with a support pathway connected to the enterprise from start to finish.
By co-constructing a good practice guide for getting people into employment by sector.
They were able to find innovation in the existing: this is the wow effect sought throughout the process, resulting in proposals for change to a system that only tends to renew itself.
The Molenbeek job centre is looking for new formats to revitalise its current way of working: rethinking the existing system to make it more efficient and more in line with the needs of groups that are not currently its beneficiaries (young people, single mothers, long-term researchers).
How can we rethink the meeting format between Molenbeek job seekers and companies to generate sustainable and quality job placements?
To respond to the challenge, we designed three days of workshops that brought together several types of actors directly concerned by the challenge: job seekers, representatives of Actiris, employers from different organisations (Orange, Infrabel…) and associations in the field that link job seekers and employers (Mission locale de Molenbeek, Art2work, Proforal Asbl, Imagine 1080).
Day 1: Discovery — the first phase of the process, where the actors gathered around the table to immerse themselves in each other's stories and in the hot employment topics to empathise. This phase allows us to highlight possible and attractive levers for change.
Day 2: Design/Define — the second and third phases where, in the first instance, the creative skills of the participants are mobilised so that innovative solutions emerge and, in the second instance, the means are implemented to frame this solution so that it becomes established over time. We ensure that the levers used have a positive impact in the future.
Day 3: Develop — the final phase of refining the value proposition and rapid prototyping of a solution for future testing by the Mission Locale and Actiris. The groups ended the day with a pitch of their solutions and action plans.

We would be pleased to exchange with you on your Sustainability Challenges. Where are you at? Where do you want to be? What could be your next steps? Let's have a chat!
Email: hello@impact-valley.com
Phone: +32 478 45 23 63